Welcome to the Crockett County Public Library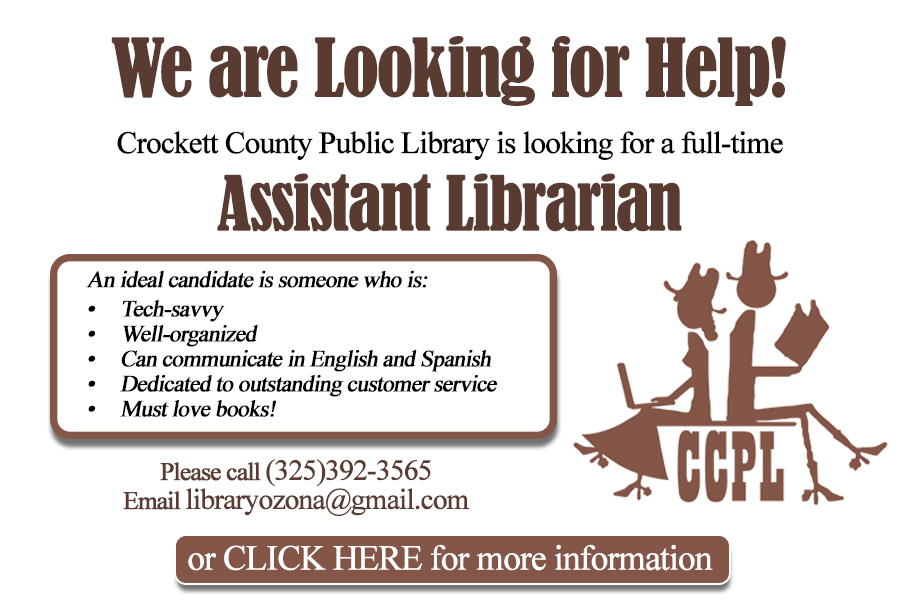 The Crockett County Public Library offers a wide variety of services for the residents of Ozona and Crockett County as well as visitors to the area. Our goals are to support and enrich public education, to increase access to information by providing an adequate facility and number of materials to serve a community the size of Ozona, and to provide services for all segments and ages of the community. Please feel free to drop by the library for access to thousands of books and reference materials, a well-stocked reading room filled with newspapers and magazines, free public Internet access and more. Our helpful and friendly staff will be glad to assist you.
To learn more about our library and its services, visit our About the CCPL and Operations and Services pages.
For your convenience, we have provided a list of some of our online resources below:  
OnLine Card Catalog - Search our Online Card Catalog from the office or from home, anytime.  Welcome to the

Crockett County Public Library Catalog

.


Digital Catalog - Thousands of 

ebooks and audiobooks are available to borrow for free at 

cloudLibrary, by Bibliotheca. Visit yourcloudLibrary.com to learn more or visit our eReader page for more information. Or, contact the CCPL during business hours at 325-392-3565 and we'll tell you all about it! 
---
Other Helpful Websites:

Try these TexShare Databases filled with magazine articles, encyclopedia entries, and other materials to help you discover more on any subject, from general interest to business, hobbies, and more. Please see your librarian for a username and password.
GALE Virtual Reference Library is an online collection of reference books, encyclopedias and other resources for research purposes. Please contact your librarian for a username and password.
  
  
GALE Testing & Education Reference Center provides in-depth information about institutions of higher learning including: graduate & professional programs, distance learning, corporate training, available scholarships & awards, preparatory entrance tests & much more. Online practice tests for entrance exams, certification and licensing tests are also available. Please contact your librarian for a username and password.
  

GALE Databases - formerly Career Transitions Provides immediate help for job seekers navigating the new economy. Innovative and accessible.  

  

Texas Workforce Commission (TWC) is the state agency charged with overseeing and providing workforce development services to employers and job seekers of Texas. TWC strengthens the Texas economy by providing the workforce development component of the Governor's economic development strategy. Texas boasts an incredibly skilled workforce ready to attract enterprise to the Lone Star State. By focusing on the needs of employers, TWC gives Texas the competitive edge necessary to draw business here.

U.S. Citizenship and Immigration Services Information about citizenship, laws, policies, Permanent Resident Cards (Green Cards), and more related to U.S. citizenship.

U.S. Customs and Border Protection Get the latest official information about subjects relating to the U.S. border. 
ABCmouse.com - With more than 4,000 interactive books, educational games, puzzles, and other learning activities, ABCmouse.com's award-winning online curriculum is the most comprehensive online educational resource for young learners (ages 2–7+). From Age of Learning, Inc. Free for use in our library.
Did you know your local library has thousands of ebooks and audiobooks available to borrow for free? Contact the CCPL today at 325-392-3565 for your login information! For Apple and Google application download links, visit our eReaders Applications page.